Today we are covering limited edition G-Shock watches for men. The newest and loudest one, in fact. This G-Shock X Super Mario Bros. collaboration is a gift to all watch enthusiasts for G-Shock's 40th anniversary.
Two of Japan's cultural icons join in this limited edition Super Mario Brothers-themed G-Shock. Finally. It's equipped with familiar colors and an amusing design, and we managed to get our hands on one, so stay tuned.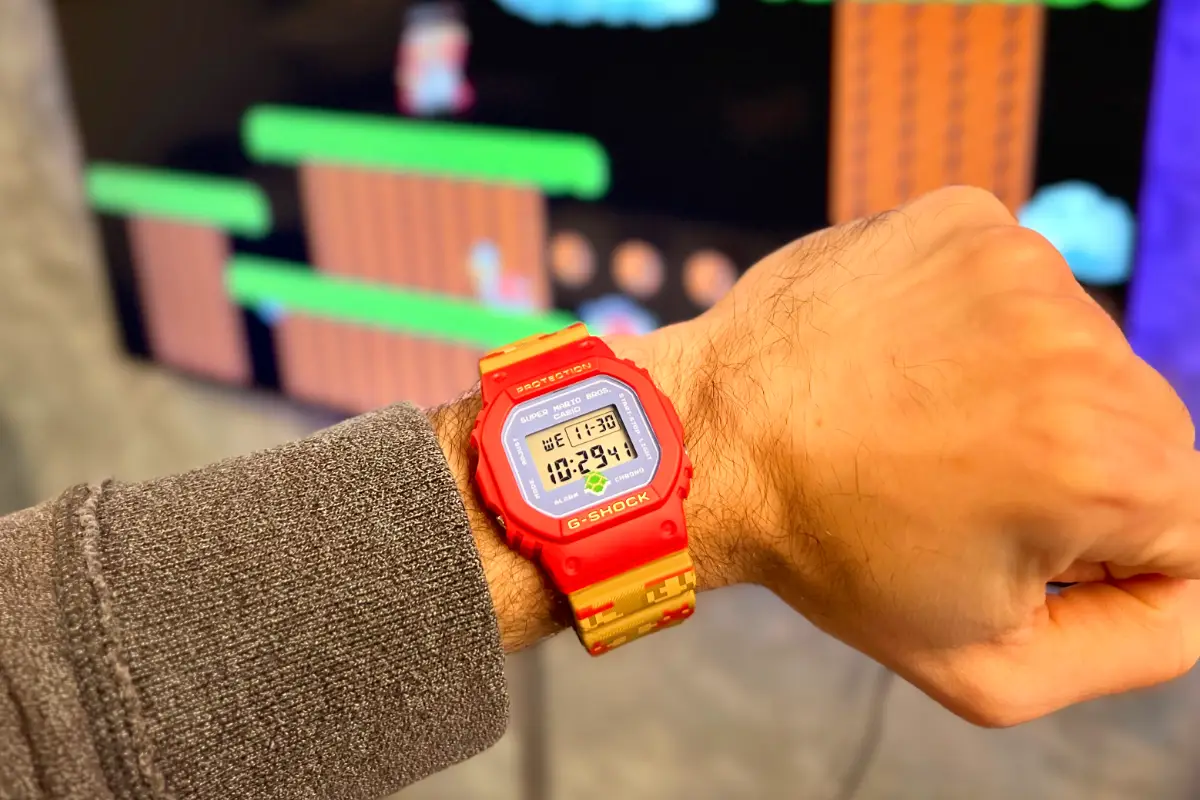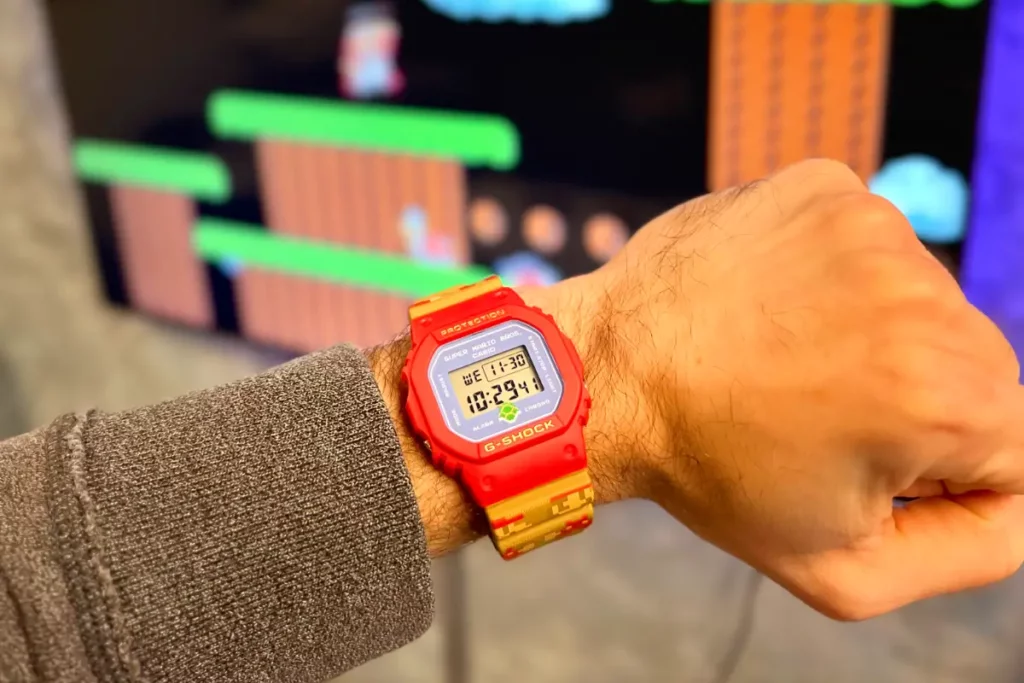 This is the year of Super Mario – if you haven't heard, we even have a movie coming out. And the world is freaking out! Some famous names are lending their voice to this animated movie. Jack Black will embody the mighty Bowser, Anya Taylor-Joy as Princess Peach, and our hero with a mustache, Chris Pratt.
Bloomberg says, "In introducing the early preview on Nintendo of America's … some 650,000 fans tuned in live, and millions more have viewed the clip since."
Those are crazy numbers, even for a character as iconic and influential as Mario. Still, not weird at all when we take care of how popular and profitable the Super Mario franchise is.
"When Nintendo Co., Ltd. released the SUPER MARIO BROTHERS for the Nintendo© Family Computer™ in 1985, the game sparked a series that would captivate countless fans — children and adults alike — for 35 years and counting. The SUPER MARIO series of games has sold over 400 million copies worldwide, with Mario and the rest of its cast of colourful characters winning the hearts of fans not only in Japan, but all over the globe," Casio states.
It is one of the rare video games that continues to captivate fans around the world through decades. Now it comes to life with familiar colors and an over-the-top design, so let's get on it.
G-Shock X Super Mario Bros.
Before getting into the watch, we must comment on its beautiful packaging. With retro Super Mario designs all over, this box is not the box you will want to throw away. It's truly something special.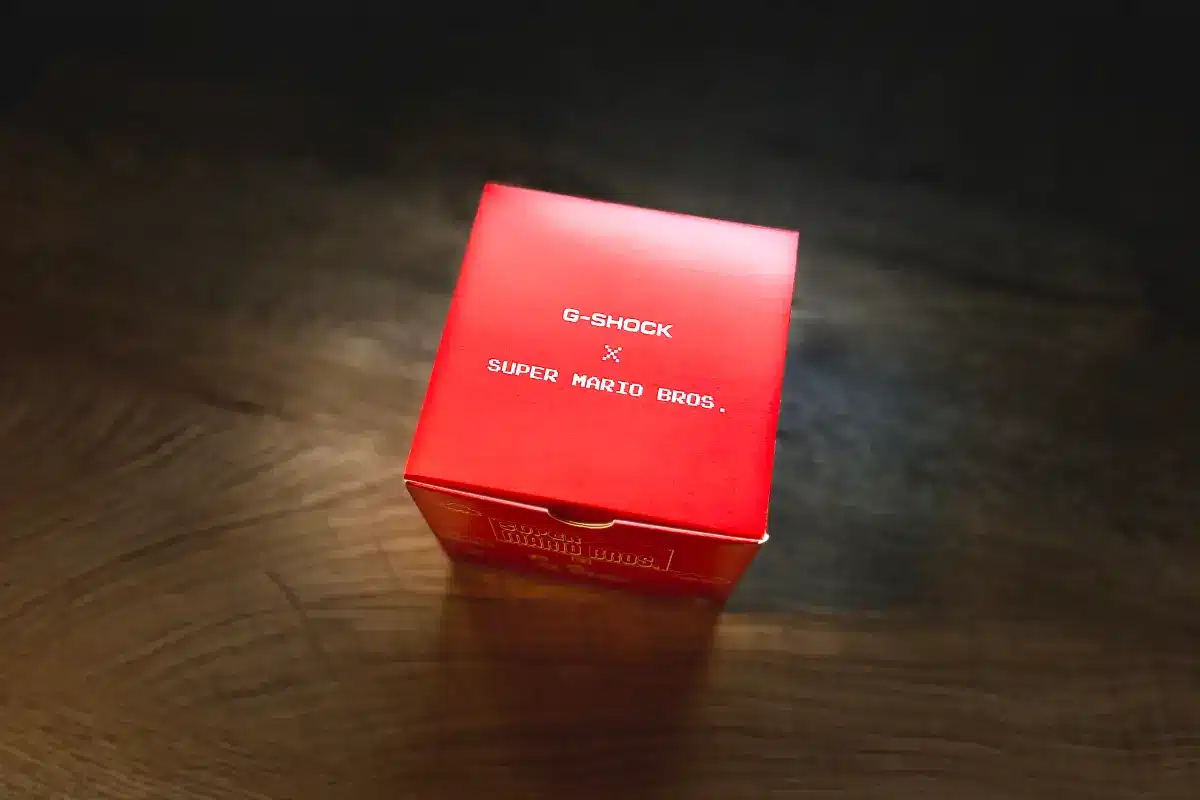 The packaging in vivid red features the game world in an all-over design. In addition, one of Mario's signature phrases, "Here we go!" is embellished in a pixelated font.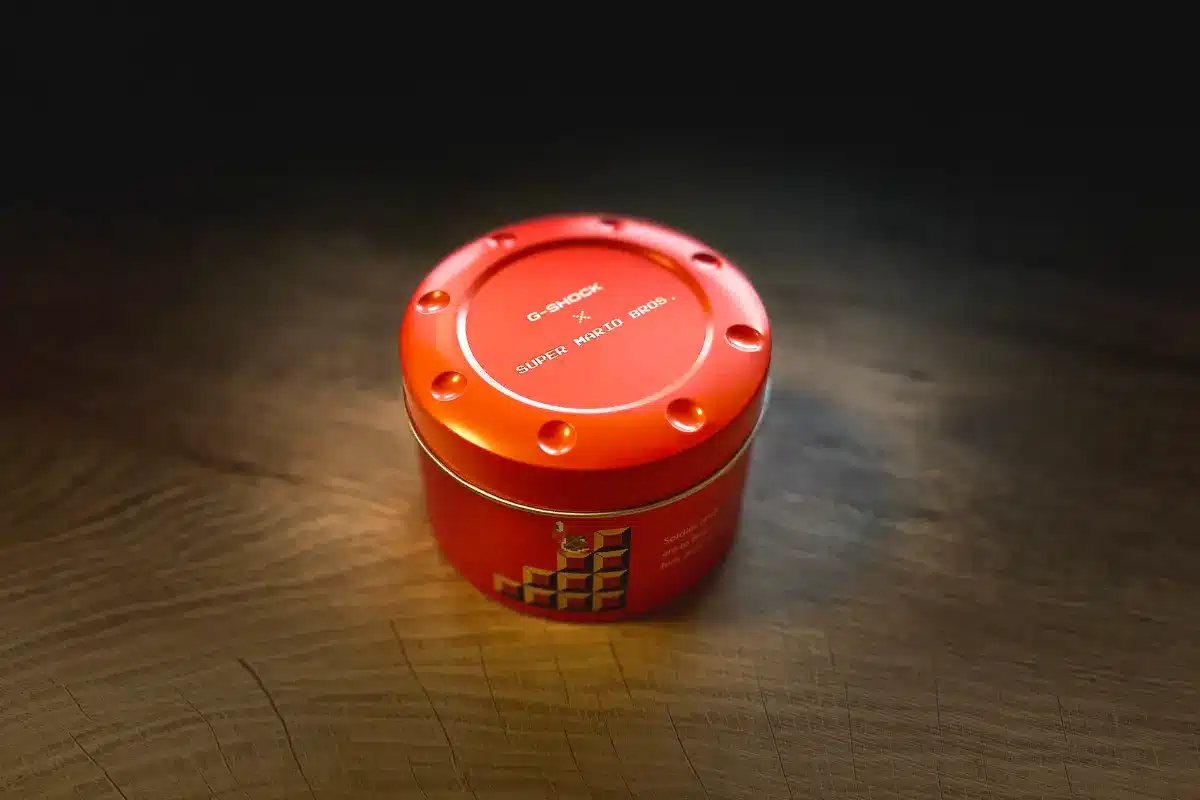 This limited edition G-Shock offers additional features that others don't. The first and most visible one is the band. It's a beautiful, 8-bit Super Mario pattern that symbolizes Mario tackling any adventure and never giving up.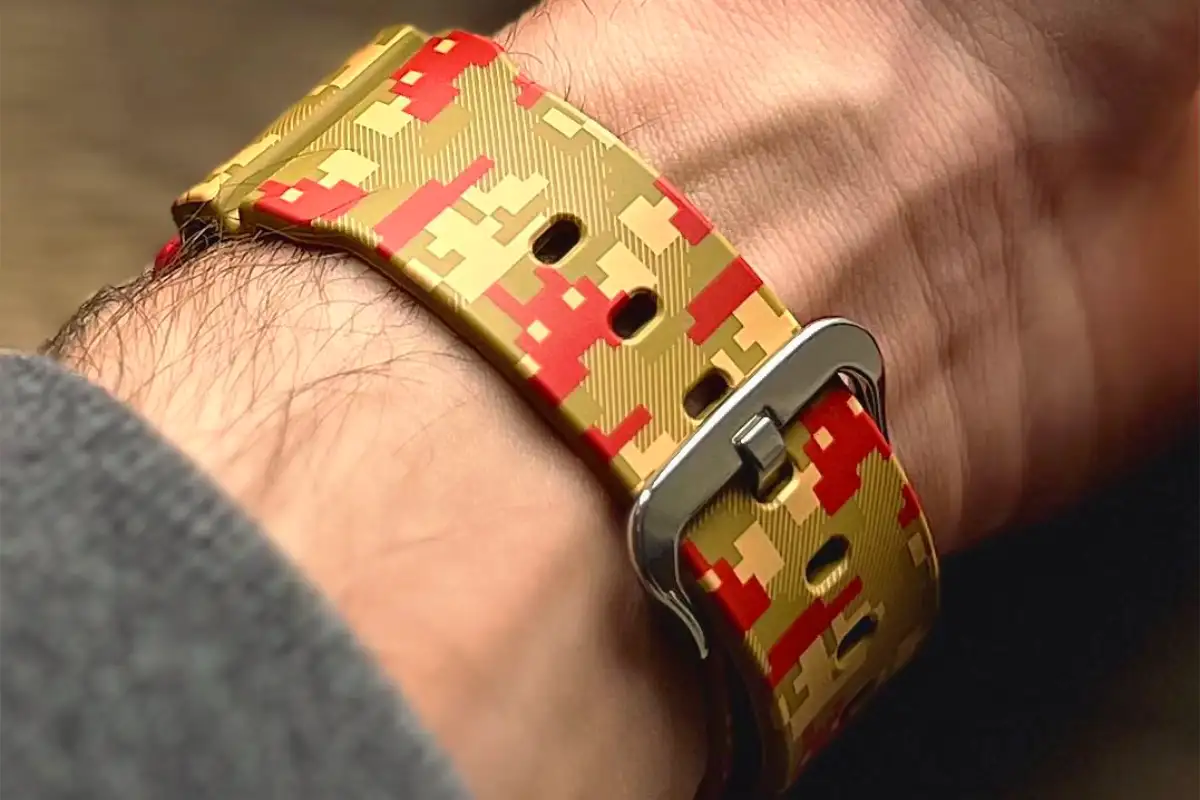 The iconic Mario red color makes the bezel, while the dial is finished in the blue color of the game's overworld stages background. Gold details are a nice touch and represent the coins that Mario collects throughout the series. We also have a Koopa Troopa shell printed at the bottom of the dial.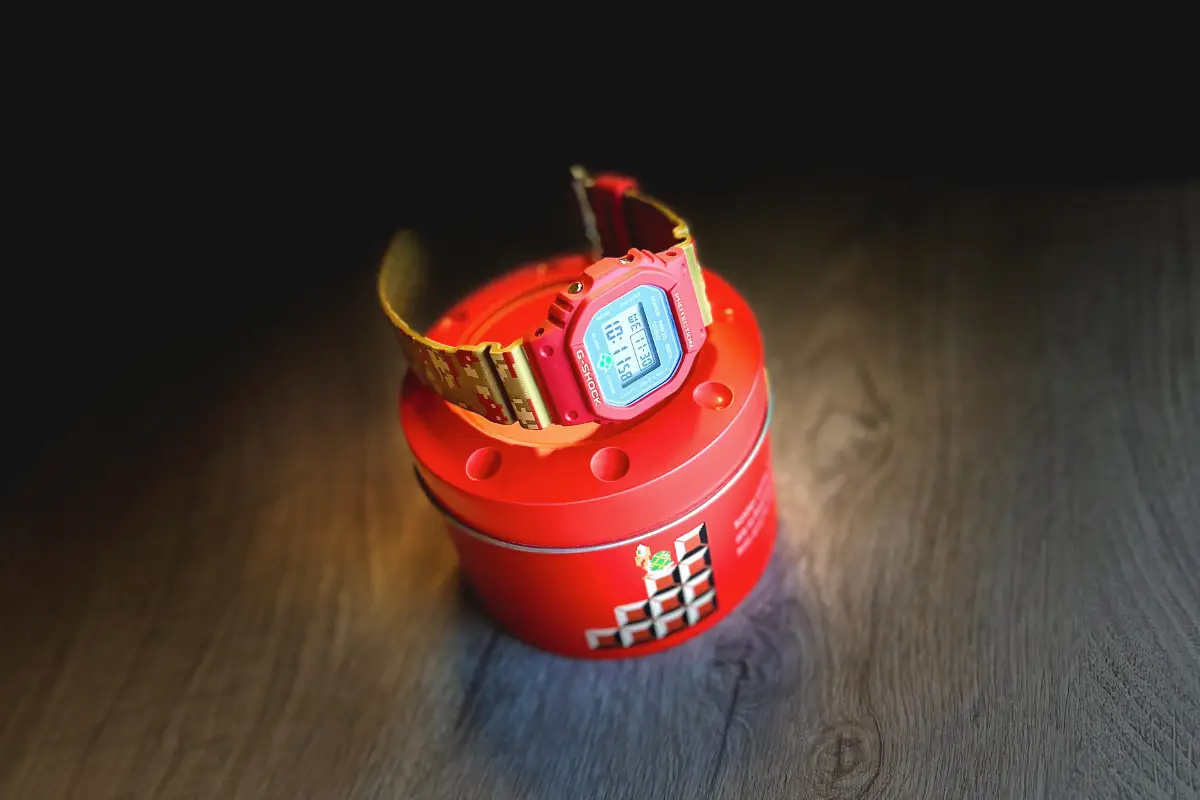 The backlight has a surprise on the LCD, which looks like Mario stepped on the Koopa Troopa shell and scored a 1UP – an iconic move throughout the Super Mario series that we have all enjoyed.
Alongside these unique features, this limited edition G-Shock watch offers the usual features, such as shock resistance, 20-bar water resistance, stopwatch, timer, alarm, and flash alert.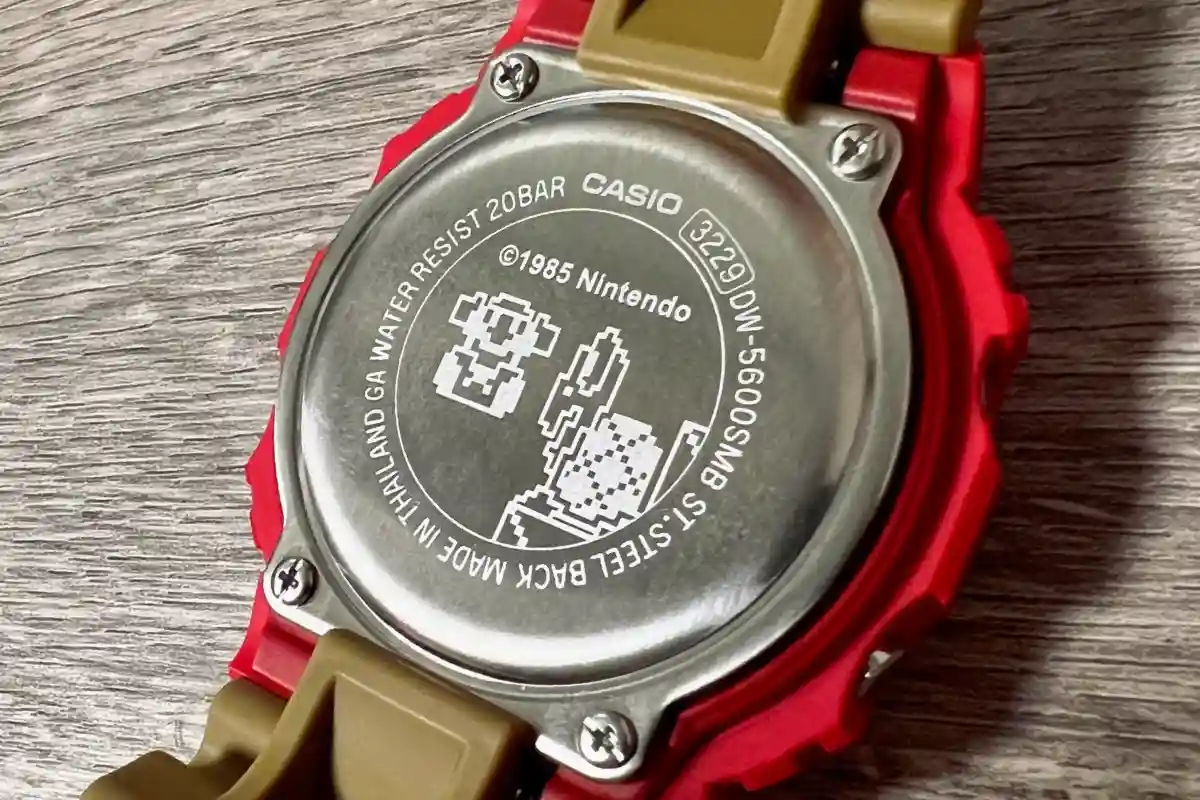 This limited edition G-Shock comes at a $150 price tag, which is a bit more affordable than the $25,000 Mario Kart watch from Tag Heuer.
Why we love G-Shock
G-Shock is one of the toughest, most versatile, and most popular sports watches for men. They were born from the developer's dream to 'create a watch that will never break.' After many tests and destroyed samples, the first, now iconic Casio G-Shock watch was finally released in 1983. Since the first timepiece, Casio has always followed this philosophy, making the brand an icon.
I love G-Shock watches so much that I've had over 10 of them throughout my life. Now I have 5, but none of them broke. I sold the ones that I wasn't wearing that much. After all, you can only wear one watch at a time.
Unless you're Maradona – then you can pull off one at each wrist, but they have to be the same. So, still, no point in having those. Neither for Maradona nor me.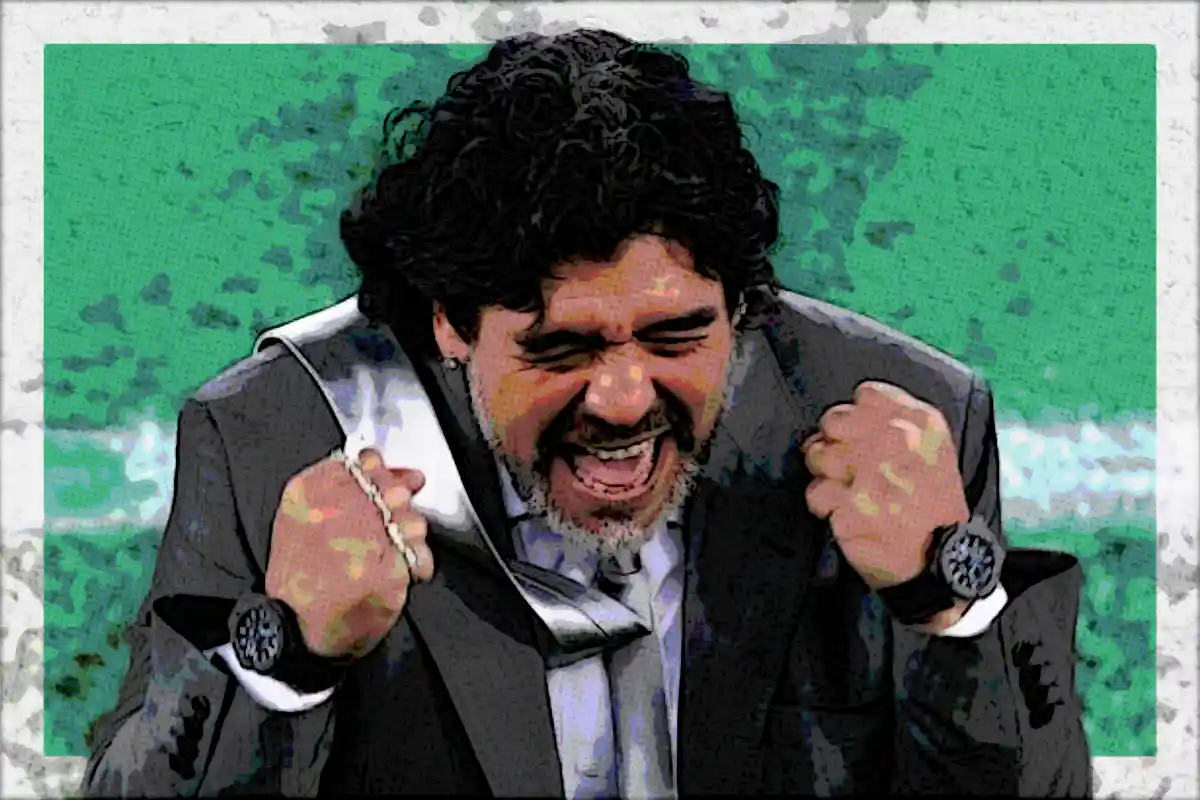 In my personal, absolutely subjective assessment, two of three watch enthusiasts own one or more G-Shock watches in their collection. They are often regarded as the best watches with rubber straps for men.
At last, check out this official promotion movie for the new G-Shock X Super Mario Bros. collab.
The bottom line
I am usually the type of guy to go for a safe option – something classic, usually in monotone colors, that can pair with anything. But, as I'm writing this post and wearing this watch, I cannot help but look at it every now and then. The colorfulness of it screams, 'look at me.' It's fun to wear such a fun wristwatch from time to time.
More: Is Tudor Black Bay The Best Everyday Watch For Men?
If you like this watch, make sure to start searching. It's one of the most popular limited edition G-Shock watches for men, and for a good reason. Whether you like this watch or not, there's no question it packs a punch. Soon enough, these watches will only be available from grey dealers at multiples of the MSRP price, so get going.
For more on watches, check out our list of the best everyday watch for men, featuring G-Shock as the number one entry on the list.