Do sunglasses make you more attractive? They are very popular among men, so they must provide some benefits, but you must choose wisely. In this article, we will talk about just that. Then, we will teach you how to pick the right sunglasses and lead you to some of the most popular ones.
Did you know that one of the first sunglasses was made from smokey quartz in China? Those weren't corrective glasses, but they shielded the eyes from the sun. Technology and fashion have come a long way since then. We have much more stylish and protective sunglasses, and you should take advantage of them.
There are many reasons to get sunglasses, one of which could be to look more attractive. For example, most people find men with sunglasses more attractive. So, why do people find glasses attractive? Let's find out.
Why do people find glasses attractive?
Do sunglasses make you look hotter? They surely do. Sunglasses help your face appear more symmetrical. They allow you to hide the asymmetry in your eyebrows and eyes. This will hide your minor imperfections and make you look more attractive.
Sunglasses give you a personality. With cool sunglasses, you don't look boring at first glance. We know how important that first impression is. Instead, sunglasses help you stand out and make you seem more attractive.
Sunglasses make you more confident. They can hide your insecurities, and you feel more attractive when you look at yourself in the mirror with sunglasses. Don't worry – finding yourself attractive isn't a bad thing.
Sunglasses are fashionable, and you can try different outfit combinations with other sunglasses to find your best look. Likewise, you can combine them with stylish watches to look classy and more attractive. If you are unsure which watch to buy, you can check out our list of the best everyday watches for men.
Why should men wear sunglasses?
The eyes are one of the most precious organs, and protecting them is essential. Sunglasses are really good at doing that.
Staring at a screen can put stress on your eyes. It can cause pain and discomfort. In the long term, it can also weaken vision. It happens due to the blue light emitted from your screen. Therefore, you should wear blue light filter glasses to protect your eyes against them.
Sunlight is extremely powerful, and our eyes aren't meant to stare at the sun directly. The UV rays from the sun can also damage your eyes. Fortunately, most sunglasses nowadays have UV protection to save your eyes. You can also wear dark sunglasses to avoid exposing your eyes to bright light sources. The darker the lenses, the more they protect.
When it is windy outside, or you are riding a motorcycle, bicycle, or anything that involves you going at high speed without shielding you, such as skiing, dust and other small particles can enter your eyes. They can cause irritation and burn, sometimes even damaging your eyes. Wearing sunglasses protects you against those.
How to find the right sunglasses for you
Wearing glasses that suit your face shape can help you take full advantage of glasses and look like the best version of yourself.
First, you have to identify your face shape. There are five main face types – square, triangular, round, oval, heart, and diamond. Now that you know about face shapes, you need to learn which ones are compatible with which sunglasses.
You will look good in anything if you have an oval face shape. Almost all shapes of sunglasses are compatible with an oval face.
If you have a square face, you should avoid sunglasses with square glasses. Instead, get different shapes to bring a difference in your looks.
With a round face, you have to avoid sunglasses with round lenses. They may over-exaggerate the roundness of your face.
For triangle face shapes, get sunglasses that compliment your face shape. It means glasses with a wider top than the bottom, or even the other way around.
Just like the triangle faces, diamond faces could use an angled frame. Slightly rounded frames look great on diamond-shaped faces.
If you are still trying to decide what to get, don't overthink it. Shapes are essential, but they are not everything. You can wear a different shape than the recommended one and still look great. However, we have prepared a list of the 5 most popular sunglasses you can buy, so let's get on it.
What are the most popular men's glasses right now?
Here's our list of the 5 most popular men's sunglasses you can get.
Persol PO3048S
These great-looking sunglasses cover your eyes better against the particles and provide UV protection. In addition, these are lightweight, will fit any styling, and are perfect for any outdoor activities. Also, polarized glasses help you against the sun and its glare.
Ray-Ban RB3025
This classic has multiple color options, so you're bound to find a colorway you like. These aviator sunglasses look classy and stylish and can be worn for formal events or on a casual day on the beach. If they're good enough for Tom Cruise in Top Gun, they're good enough for you and me.
Persol PO3292S
These rectangular-style sunglasses are available in many classic colors, and they also come with UV protection. Persol is a classic among sunglasses makers, and if you're looking for square-shaped ones, you cannot go wrong with these.
Oakley Holbrook Gunmetal
As the name suggests, these polarized Oakleys come with sturdy stainless steel frames. These are meant to be lightweight driving and sports glasses. It's not for nothing that you see so many men wearing Oakley sunglasses. To top it off, you get a 30 days money-back guarantee.
Two-In-One Deal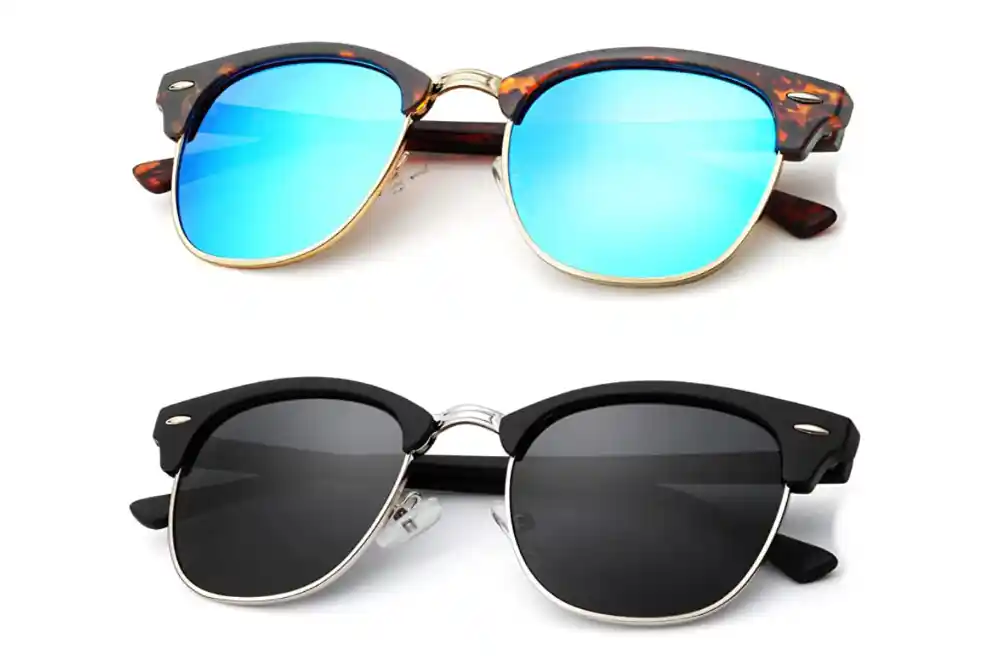 In this deal, you get two pairs of sunglasses instead of one at a low price, much lower than others on the list. There are plenty of color options to choose from, and these will fit triangle and diamond-shaped faces well. The build quality is excellent for the money, and both sunglasses are stylish. They also claim to block 100% UV lights.
The bottom line
Sunglasses are a great accessory to look hotter while protecting your eyes and sight. In the end, do sunglasses make you more attractive? Yes, and you should grab a pair of new ones to test that theory – dress to impress.
Spending a little money to protect your eyes is the best value-for-money deal you can make. So, get the right sunglasses and confidently show off your new looks.
Disclaimer: We may earn a commission if you buy something using links in our articles. This helps support our writing. Learn more.