Working on a book is difficult, so we have found the best tools for writing a book that will help you make that challenge easier and benefit your career in the long run. Good writing tools help organize your writing, gain confidence, and write better stories.
This article will cover essential tools for writers, the best free writing software, and types of writing tools and how to use them. So, keep reading, and let's get started.
Grammarly
Our favorite tool for writers, we had to put Grammarly first on this list. As one of the best tools to improve your writing skills, there are many benefits of using Grammarly writing assistant, but we're going to talk about the most important ones.
Since day one, we have been using Grammarly's premium subscription at Swanky Fella, and their tools have helped me become a better writer for the past decade, so I may be subjective. However, I love this tool so much because it works – it does a couple of things and does them well.
It's as simple as possible. Open up a new document or upload one, set up your preferences and goals, and start writing. You can choose the tone, formality levels, and occasions. While you write, Grammarly will review your text, consider its context, and give you the best suggestions you can use to improve your writing.
Grammarly will help you with spell-checking and grammar, sentence structure, clarity, passive-voice sentences, word choice, and readability. Then, when you finish the writing, click the Plagiarism option in the sidebar, and Grammarly will compare your content to billions of pages online. In a few moments, you will have your results, and you can ensure that your content is 100% original every time.
How else can you use Grammarly?
Is Grammarly also good for academic writing? Of course. Grammarly excels in all areas, whether helping to write emails, titles, short paragraphs, or long-form blog posts.
There is even a Grammarly Chrome, Firefox, and Safari extension or a desktop app that you can install and use to follow and correct whatever you write, wherever. Unfortunately, there is no Scrivener integration and no mobile support.
Grammarly has both free and premium plans. Their basic option offers a free grammar check and spelling recommendations, while the premium plan, at $30 per month, gives access to its most valuable features.
You can start with the free version, but consider the premium version if you are serious about your writing career, as it offers more profound writing feedback. Every writer needs a professional tool to maximize their writing impact, and Grammarly is worth every penny.
Linguix
Linguix is an excellent alternative to Grammarly and offers great bang for the buck. According to the company, their speed, accuracy, and suggestion variety is unmatched, but that has yet to be proven. It also has a free version with free grammar check, but the premium is only $5 per month, and it offers similar features as Grammarly.
While you write, Linguix will show you the content quality score, which takes readability and engagement into the equation and gives you a score of how good your content is. You will also have advanced language insights, client style preferences, and 360-degree analytics of the writers and their performance. You can write on Linguix.com or use it directly through Google Docs, WordPress, Mailchimp, Facebook Business Manager, and millions of other apps.
From our experience, Grammarly is still the number one AI writing software on the market. The number and quality of its features are unmatched. However, if you're just starting out or Grammarly is too expensive, Linguix is an excellent choice to fix your grammar and improve your writing.
Scrivener
Scrivener is the ultimate book-writing software. Your notes, research, outline, and writing will all be in one place. In addition, you can organize your note cards via a visual drag & drop builder, which is super simple. Scrivener works with the most popular software and on all platforms. What more could you ask for?
There is a steep learning curve that can be too much at first, but there are tutorials, and it's worth it. Investing the time in getting to know the software can ultimately skyrocket your writing skills and help you finish the book.
At $49 for Mac and $40 for Windows, with what you get, Scrivener writing software is a bargain.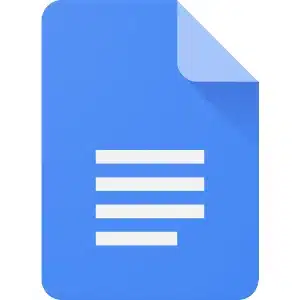 Google Docs
There is little left to say about the online word processor Google Docs. Ever since its release in 2006, Google Docs has ruled the industry. This web-based word processor can be used to create, edit and store documents, and it's free.
In fact, I'm writing this article in Google Docs right now. It's also great for collaboration among teams. Alongside Google Sheets, we use it daily to share and review articles between us.
Like Track Changes in Office's Word, an editor or writer can use Suggestion Mode to fine-tune your work, suggest things you may have overlooked, or comment on any point. It's on you to accept or reject those suggestions. Google Docs is the best free writing software you can get at no cost. It also allows you to store your documents in Google Drive and access them from anywhere and on any device. Good stuff.
Hemingway App
Hemingway App is a must-have tool for every beginner writer and blogger. Grammarly or Linguix will do an excellent job on readability, but Hemingway can improve it even further. I mean, you can. Unfortunately, Hemingway App is lazier than other writing assistant tools, as it won't do anything for you.
The AI will highlight the parts of your writing that could be easier to read and give you a reading grade level. It will find complex, passive, and unnecessary sentences that you can then improve or remove. Although less competent, it will even serve as a free grammar check tool. The lower the grade, the easier your writing is to read.
Whenever I talk to new or inexperienced writers, I recommend using a grammar tool and then finishing and polishing it nicely with Hemingway. These are the essential tools for writers.
It's a free writing software, although you can get the desktop app that offers the same features for $20. So please make use of it.
Scribendi
Scribendi, a Canadian company, has over 20 years of experience in the writing industry. However, this comes at higher prices. This is technically not a tool but an elite editorial team who will edit and proofread your book, whether you're a student, author, or business.
The main difference is that Scribendi has real human editors who are experts in various fields. In addition, they have a rigorous selection program supported by the latest technologies, so you can rest assured you will get high-quality work.
The agency cares about the deadlines, and when they finish writing, they offer one free revision. They are that confident in their service. If there is something you want to change, they will do it for you free of cost.
One thing to note is that we have seen people recommending Scribendi for short-form posts, or shorter books, instead of longer writings. For smaller word count, Scribendi's prices are reasonable, but if you want them to write a long book for you, it's going to get costly quick.
Notes
Although we use Google Docs for note taking and sharing between the team, I like to use personal notes apps for my ideas and tracking the progress while everything is synced throughout devices.
You often get an idea at the wrong moment; if you don't write it down, it's gone forever. It has happened to me so many times I'm not leaving anything to chance today. This way, I write it down on my phone at a red light, and it waits for me when I log into the home computer.
I love Apple's Notes app, but that only works if you're fully integrated into their ecosystem.
I have also used Evernote and Milanote, both of which offer basic and premium versions. Evernote has been the industry leader forever, so I assume you all know about it. If not, here's a short overview.
Evernote is software that can sync your notes across all your devices, whether mobile or desktop, at home or work. That means it functions like Apple's Notes app but is even better, as you don't need to be a part of any particular ecosystem. For example, you can use an Android phone, a Mac work notebook, and a Windows home computer and connect them to the same network.
Milanote, on the other hand, is often called 'Evernote for creatives' due to the visual storytelling ability it offers. It's a nice piece of software that utilizes whiteboards and storyboards, although limited with export options and no Windows app.
ProWritingAid
ProWritingAid, just like Grammarly and Linguix, is another and last book-writing assistant tool. It works the same way as those, offering grammar, style, and writing suggestions while you write.
The one feature I love with ProWritingAid is the built-in Thesaurus feature. When writing, I often need a synonym, a different word that means the same thing, and I need help getting a good one off the top. So then, I open up Thesaurus and find it in seconds. Type, click, and it's done. For someone as lazy as I am, having this feature integrated and sparing me from opening up another tab feels like heaven.
You can easily integrate ProWritingAid with your favorite tools, such as Google Docs, Chrome, Microsoft Word, or Scrivener.
Like its competitors, ProWritingAid has both a limited, free version and a premium version at $50 per year.
The bottom line
So, here's your list of the best tools for writing a book and essential tools for writers to use in their next book. You even know to find the best free writing software and free grammar check if you're on a tight budget, but don't be afraid to invest in yourself and have patience. It will always pay off in the long run.
Related: How To Start A Blog And Make Money
Using a reliable writing assistant is crucial whether you're a writer, business owner, or student. Therefore, we recommend you don't skip these grammar-checking and readability tools.
Remember that regularly using any type of writing tool will make you a better writer. You will have to see and review the changes; while you do, those rules, norms, and styles will get into your head. Each time you start to write, you will have fewer suggestions as you will improve, and it will become natural for you to write that way. 
Even if you're not looking for book-writing software, these tools can help writers with other areas, such as blogging, copywriting, journaling, and even emails, so give it a try. When you start writing, our guide on how to increase energy levels and productivity might come in handy.
We may earn a commission if you buy something using links in our articles. This helps support our writing. Learn more.