Our subject today is how to surprise your girlfriend on Valentine's day the right way. Are you looking to spice up your relationship, spoil your girlfriend or reignite that spark? We've got you covered.
A great way to show your love to someone is by giving them a thoughtful gift or a surprise, and Valentine's just so happens to be around the corner. So take this day as an opportunity to do something special for her. We have also covered the best birthday celebration ideas here.
Valentine's is a day for lovers to express their appreciation with gifts and gestures. If you are taking the time and effort to come up with romantic surprises for your girlfriend, you're already one step ahead; nothing melts a heart like a partner that tries to give their loved ones a day to remember.
However, when the day comes, it is easy to get overwhelmed by all the options, or maybe you just need the inspiration to get some ideas going. Luckily for you, we have prepared a list of things to do on Valentine's day, and here it is.
A lovely breakfast surprise
Imagine her reaction if she woke up to you holding breakfast you made with your own hands just for her. Don't just imagine; make it happen. Give it your best, and don't forget to season it with your love. It's a bonus if it's a dish she loves. Even if it doesn't taste the best, she'll appreciate it. After all, it's the effort that matters.
Include a sweet little card, tell her how much you love her, and make her feel special. It won't take much time, but it'll win her heart.
Sing a song for her
If you're out of money and looking for cheap ways to surprise your girlfriend, this one is the perfect option for you, and it is as effective as any other in this list.
To make it more memorable, you can write your own song. Let the lyrics shower her with love. It can be about a happy memory you two share, a special topic, or something as simple as how important she is to you. Don't worry about how you'll sound. Every word sounds like the most fabulous melody when you're in love.
Trust me, girls love it when you try to do something for them; how good or bad you're at it is just an extra factor.
Gift hunting
You can never go wrong with gifts. In any celebration gifts are a must, they always put a smile on people's faces. So give her something she likes – chocolates, snacks, jewelry, a makeup kit… Or even a puppy. Women love puppies. Well, you know your girlfriend better than us.
If it's something she has always wanted to have, that's a cherry on top. Try to remember if she has ever talked about something she wants. The idea of gifts might sound a bit generic but making it more interesting is entirely up to you. Hide the gifts at unexpected places in your house and wait for her to discover them. Her reaction is going to be worth it.
If you still need to figure out what to give your girlfriend, you can take some inspiration from this article on the 10 best gift ideas for your girlfriend.
Take her somewhere unexpected
Remember when she wanted to go to a particular place, but you didn't have time, or you couldn't take her for some reason? Now is your chance.
Plan a romantic Valentine's getaway, and don't tell her where you're going. Instead, ask her to pack her bags and let the excitement build up. She will have butterflies knowing you pay attention to what she wants.
It's one of the most important aspects of a relationship. A break from everything and spending a vacation with your partner might be just the thing you need to make your bond more potent than ever.
A romantic candle-lit dinner at home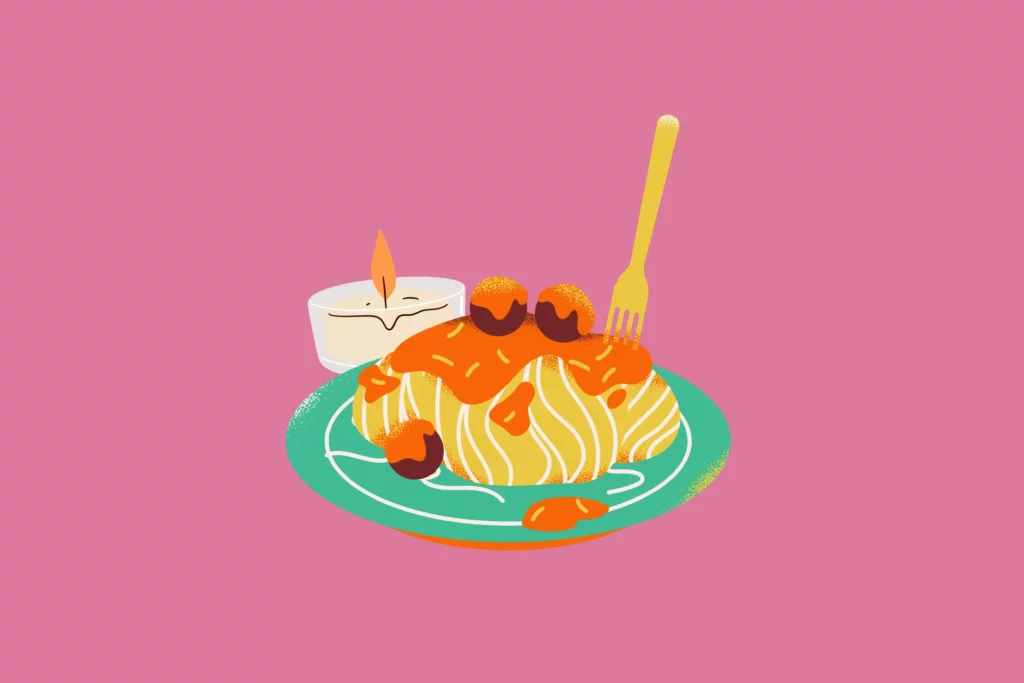 Decorate a room and make it romantic, set up a table and some food, then you're all set. You can do it in many ways, depending on what type of dinner you want to have. Turn it into a candle-lit dinner to make things more romantic.
Returning to a romantic Valentine's dinner after a tiring day can be one of the best experiences ever. Of course, the theme of the dinner could be whatever you want. You can even prepare the food yourself if you are good at it. But, whatever you do, make it memorable for her.
Surprise her with a fun time
Sometimes nothing is better than having some fun together. Forget all the worries in the world and take your girlfriend somewhere fun. Go to an arcade and play games, compete against each other, and have some laughs. Go bowling if you're into it; it's definitely one of the most fun activities.
Or take your girl to a casino. Win or lose, you're guaranteed to have a fun time with your partner. Or you can spend your day at an amusement park. Try everything you can. The goal is to have some quality time together and make your relationship more exciting.
Take her to a concert
There are only a few things in the world that are more fun than watching your favorite band perform live in front of you. So surprise your girl with a pair of tickets for her favorite concert. Yes, it'll be filled with a crowd and won't just be the two of you. But that's part of the fun. So sing your heart out and dance to the rhythm with the love of your life.
If done right, she'll remember the experience for the rest of her life. Just make sure to get the tickets to the right concert.
Conclusion
Here are our suggestions on how to surprise your girlfriend on Valentine's day the way she deserves. Now it's up to you to figure out what works best for you. Know your girlfriend's interests, pick a suitable surprise for her, and make her fall in love with you even more.
Related: How To Become a Better Husband and Father
If you're a rarity here – a girl looking to surprise her boyfriend, no worries, everything mentioned above also works on men. You don't have to do something out of this world to impress. You can make anything work with a little effort and love.