On this list, we'll answer what are considered the 10 best movies of all time. We will not get too creative with the list – we will use the IMDB's top charts. Their movie ratings are user-generated and basically the standard today. The people have spoken, and this list is what they chose. RottenTomatoes and Metacritic are available, but I've always loved IMDB the most.
Not everybody will completely agree with this list. There are many preferences each of us has when choosing a movie, but no one can claim the movies on this list aren't masterpieces in their own way. Some are classics that have stood the test of time over and over again, always ending up being one of the most popular movies.
Let's get started. Our short movie reviews/descriptions will be vague and spoiler-free, so don't worry. Here are the 10 best movies of all time.
Forrest Gump (1994)
Genre: Adventure, Drama
"Humour, sadness, action, drama, and a Vietnam film all rolled into one."
I've waited over 20 years to finally see this movie, and boy, was it worth it. If you haven't seen this touching movie, at least you've heard the saying, 'Run, Forrest, run.' Forrest Gump is an innocent and kind Alabama man with an IQ of 75 whose only desire is to be reunited with his childhood sweetheart. Throughout the movie, we see it through his eyes. The presidencies of Kennedy and Johnson, the Vietnam War, the Watergate scandal, and other historical scandals all unfold in front of him, and he manages to witness them all. Tom Hanks has many great movies, but this one takes the prize.
The Lord of The Rings Trilogy (2001 – 2005)
Genre: Action, Adventure, Drama
"A major milestone in cinema history, the trilogy would eventually gain seventeen Oscars between the three films. Lord of the Rings is a master class in storytelling and essential viewing."
A Hobbit from the Shire and eight companions set out on a journey to destroy the powerful One Ring and save Middle-earth from the Dark Lord Sauron. Based on J.R.R. Tolkien's novel (which itself received the 'book of the century award'), produced by Peter Jackson and starring Elijah Wood, Ian McKellen, and Orlando Bloom, this trilogy is a door into another dimension. The team behind it wanted to bring a beloved book to the screen and did with so much vigor that there is not much coming close. Book fans rarely accept the movie based on the book so easily – Lord of the Rings is that good. If you're into mythology and have yet to see the LOTR movies, I don't know what you're waiting for. When you're done with the trilogy, watch the subsequent Hobbit series.
Pulp Fiction (1994)
Genre: Crime, Drama
"The most rewatchable movie of all time."
In this Quentin Tarantino's bloody masterpiece, the lives of two mob killers, a boxer, a gangster and his wife, and a pair of diner bandits intertwine in four tales of violence and redemption. The story is so cleverly constructed that it took me several rewatches to figure it out. The movie is not about anything specific, and the story is non-linear, but the character performances wrap it all around. This is the best performance from both Samuel L. Jackson and John Travolta I have seen. Filled with dark comedy and death-serious moments, this movie is such a great time. I'd recommend it to anyone who loves movies.
Fight Club (1999)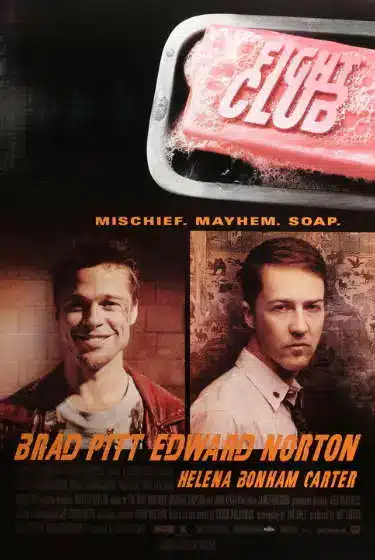 Genre: Drama
"A lot of people I know have never even heard about this film. Good to see the system works."
In this David Fincher movie, an insomniac (Edward Norton) and a devil-may-care soap maker (Brad Pitt) form an underground fight club that evolves into much more. I very much liked the social and psychological themes covered throughout this movie. Fight Club explores issues such as consumerism, class warfare, multiple personality disorder, terrorism, and anarchy in a non-judgmental way. Ed Norton and Brad Pitt are the perfect casting choice for this movie, and Helena Bonham Carter in the role of Marla is an excellent addition. This is an absolute classic you can rewatch again and again.
Schindler's List (1993)
Genre: Biography, Drama, History
"Schindler's List is undoubtedly the best Holocaust film ever made. There isn't anything like this film. Various other films have tried to show the true horrors of the Holocaust, but none of them succeeded the way that Schindler's List did."
You can't go wrong with a Spielberg film. Make sure to have time for it as this film is 3 hours and 15 minutes long, but it won't feel a second too long. In German-occupied Poland during World War II, industrialist Oskar Schindler gradually became concerned for his Jewish workforce after witnessing their persecution by the Nazis. Schindler, an unlikely hero, secretly saved hundreds of Jewish people from concentration camps. This compelling film is adequate and accurate in portraying the historical atrocities that we should never forget. Only the steel-hearted will keep their eyes dry while watching this movie. There are a couple of truly memorable and emotional scenes, but I've promised not to spoil the films for you. Go watch it.
12 Angry Men (1957)
Genre: Crime, Drama
"An excellent character study that should be studied and embraced by all present and future filmmakers. 5 stars out of 5."
The twelve angry men are on the jury in a New York City murder trial, and eleven of those believe an 18-year-old boy is guilty. If he is convicted, he will get the electric chair. The jury is frustrated by a single member whose skeptical caution forces them to consider the evidence before jumping to a hasty verdict. Can he manage to convince the others? When I was younger, I wasn't into watching films that were too old. I always thought it would not be easy to fully understand the context. Although costumeless and sans scenery, this movie will show how a clever script and brilliant acting can quickly produce an evergreen.
The Godfather: Part II (1974)
Genre: Crime, Drama
"Probably the single greatest thing ever made in the history of cinematography. This movie is both a prequel and sequel to the first Godfather movie."
Original is the original, but this is one of those rare sequels that live up to the hype and fame of the first movie. For me, it's the most fantastic sequel ever made. Fun fact: Robert De Niro won an Oscar for his role of young Vito Corleone, and Marlon Brando also won an Oscar for his portrayal of the aging Don Vito. It is one of the two occurrences where different actors received Oscars for portraying the same character. The second set of actors is Joaquin Phoenix and Heath Ledger playing the Joker role. All in all, the movie has won 6 Oscars. Godfather: Part II depicts the early life and career of Vito Corleone in 1920s New York City while his son, Michael, expands and tightens his grip on the Corleone family crime syndicate. Although fictional, this story could easily pass in the true crime genre.
The Batman Trilogy (2005 – 2012)
Genre: Action, Crime, Drama
"The Dark Knight" is certainly loud and violent, but it's not mindless. It has depth and soul. Even the Joker, in an extraordinary creation by Heath Ledger, is deeply human."
"This town deserves a better class of criminal!" I love Batman so much I have a 'why so serious?' alongside Batman's famous bat-signal logo tattooed on my ribs. Although only the second movie in the trilogy, The Dark Knight, is featured on the top 10 list, this trilogy deserves its place here. For me, it's the best trilogy ever made. You can't imagine my happiness when I heard my favorite director was making Batman movies. Christopher Nolan hit it out of the park with this series. Christian Bale and Heath Ledger convinced the world that superhero movies can bring much more quality and real-life drama to the screen. It's easy to overuse the word 'masterpiece' in an article like this, but the Batman trilogy is a masterpiece.
The Godfather (1972)
Genre: Crime, Drama
"#2 on IMDb's Top 100, a multi-Oscar-winner and over 1500 reviews…What more can I say about the movie?!"
The original and most iconic movie on the Italian-American mafia subculture. It's the one that started it all. I believe part of today's true-crime obsession comes from The Godfather being such an unforgettable movie and having such memorable characters. It shows the aging patriarch of an organized crime dynasty, Don Vito, in postwar New York City, transferring control of his clandestine empire to his reluctant youngest son, Michael. It's both a gangster movie and an outstanding family portrayal. A lesson in timeless filmmaking. If I was the one ranking these movies, this would be the #1 movie of all time. So many people I know have yet to watch it. Watch it – everyone needs to see The Godfather. It's an offer so good you cannot refuse.
The Shawshank Redemption (1994)
Genre: Drama
"The ultimate story of friendship, of hope, and of life, and overcoming adversity."
The Shawshank Redemption is officially the best-rated movie of all times. Two imprisoned men bond over several years, finding solace and eventual redemption through acts of common decency. The film portrays one man's unique way of dealing with his new, torturous life inside a prison. It shows how brutal the prison can be and how it damages a man. Not physically, but psychologically. Along the way, he befriends fellow prisoners, notably a wise long-term inmate named Red. Among many messages, the main one that's implemented deeply throughout the movie is hope. This isn't my favorite movie, but I understand why many name this the best film of all time.
BONUS MOVIE: The Good, the Bad, and the Ugly (1966)
Genre: Western
"Brutal, brilliant, and one of the best Westerns ever made."
This is my favorite western movie. It's the epitome of what westerns are all about and the experience they provide. It's a story about a bounty hunting scam joining two men in an uneasy alliance against a third in a race to find a fortune in gold buried in a remote cemetery. There are three main characters – Clint Eastwood, Lee Van Cleef, and Eli Wallach – representing the good, the bad, and the ugly, in that order. It's a long movie, but everything is in there for a reason, and the storytelling is just masterful. It's an absolutely brilliant movie that you have to see.
Fun Facts
Here are a few fun facts I bet you didn't know about these movies.
Fun fact #1: Forrest Gump and The Shawshank Redemption have both been nominated for the 1994 Oscars, where Forrest Gump won.
Fun fact #2: although The Godfather movies are a foundation for mob movies, the words' mafia' and 'mob' aren't uttered in the film. "At the request of the Italian American Civil Rights League, the producer of the film "The Godfather" has eliminated all references to the Mafia and Cosa Nostra from the screenplay," NY Times archives show. Pay in mind Joe Colombo, the boss of Colombo Crime Family, was one of the leaders of the Italian American Civil Rights League.
Fun fact #3: Pulp Fiction was made for only 8.5 million dollars, and since the film was made on such a modest budget, all the actors took pay cuts.
Fun fact #4: The Dark Knight won the first-ever Oscar for a comic book movie. No comic book movie had gone this far until this one. It definitely set the bar for the rest to come.
Fun fact #5: Schindler's List was supposed to be shot in Polish and German for authenticity's sake. "For a better sense of reality, Spielberg originally wanted to shoot the movie completely in Polish and German using subtitles, but he eventually decided against it because he felt that it would take away from the urgency and importance of the images onscreen," MentalFloss claims.
Fun fact #6: Research shows that watching horror movies can make you lose calories.
For more ideas on how to spend your free time qualitatively, check out our articles on why The Sopranos is one of the best shows ever and the best hobbies for men.